A Brief History of our Christmas specials
December is finally here! Christmas trees are up, festive lights are on, and our highly anticipated Christmas pre-orders are officially open. This year our delicious selection of special treats includes: Stollen, fruit mince tarts, panettone and our good old croissants! Given our line-up of European pastries this festive season, we thought it would be fun to dig a little deeper and discover a brief history of these irresistible sweets.
First up is the tantalizing panettone. This traditional Italian sweet originates from Milan, Italy. Made with raisins and orange zest, the dome-shaped sweetbread protects a fluffy interior of deliciousness. Famously, the origins of the panettone date back to the court of Ludocivo il Moro in the late 1400s. The sweet originally prepared for Christmas lunch was burned. Kitchen cook, Toni, prepared a substitute with the remaining ingredients and so the panettone was born. This famous sweet bread loaf has been enjoyed throughout Europe and the rest of the world since then.
Hailing from Germany, Stollen has a long history. However, this traditional Christmas treat wasn't always as delicious and popular as it is now. In fact, when Stollen was first made it contained just four ingredients: flour, yeast, oil, and water, leaving the bread to be bland and hard. This was due to Stollen being baked during Advent (five weeks of fasting leading up to Christmas) where the use of butter was forbidden by the Catholic church. Five popes later and the ban on butter was lifted in 1490, finally allowing bakers to include butter in their Stollen recipes. This special dispensation lead Stollen to be dubbed "the food of Kings". From that point on Stollen began to gain popularity across Germany and Europe. Today, Stollen recipes have evolved to include more than just butter. Our traditional German Weihnachtsstollen is made with a mix of booze-soaked candied, dried and fresh fruit and spices, wrapped around a core of house made marzipan.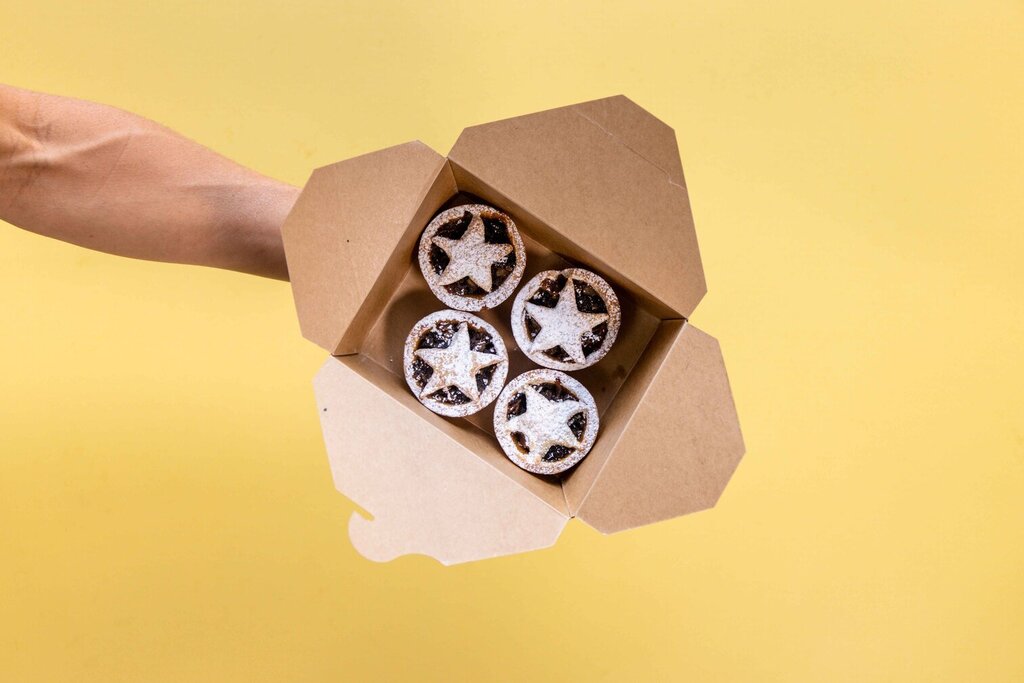 A British holiday classic, these fruity, mince tarts have become a festive staple. In their early days, fruit mince tarts did indeed contain mincemeat. King Henry V served mincemeat pie at his coronation and Henry VII enjoyed meaty Christmas pies as a main dish. But, in the few hundred years since the court of Henry VII, the recipe for mince pies has changed. In the early 20th century, mince pies stopped containing actual mince and had all fruit fillings. Our fruit mince tarts are a crumbly pastry filled with a boozy mix of candied, dried, and fresh fruit and spices. We prepare these well in advance to make sure the flavours develop, top them with a festive star and they're good to go!
This famous French pastry actually finds its origins in Austria. Vienna, otherwise known as the birthplace of the croissant, is where the story begins. Known as the kipferl, these Austrian treats went through a few dough changes before making their way over to France. In the early 1800s, August Zang, an Austrian baker who ran a patisserie in Paris began serving his Parisian version of the kipferl. This flaky pastry started to be called a croissant by the locals due to its crescent shape. In 1915, French baker Sylvain Claudius Goy wrote the croissant recipe still used to this day.
Our croissants recently took home 2nd place in a New Zealand baking competition! See what all the fuss is about and order some of our delicious croissants today!
Mouth watering already? Now that you know their origins, it's time to give these traditional Christmas treats a try. Head over to our Christmas offerings to place your order. If you spend over $80, enter the code OVER$80 at checkout and you'll get 10% off!